I know many of you have heard of my friend, Harmony, from Modern Mommy Madness.  We just met, and in an insane twist, we live 3 miles apart.  Mind.Blown. Watch out, world, the possibilities are endless.
We recently taped a live segment with MomCaveTV and were delighted when they asked us to send them taped material to be edited down to several segments.  We've been brainstorming about what we could do, and had a semi-idea of where it was going.
And then we took a trip together.  And drank.  A lot.
We went to BlogU and took the same flights home together.  The flights were delayed, which means only one thing:  drinks in the airport lounge, which led to hilarity with some new friends named Dr. Gene, Ryan, and Jen.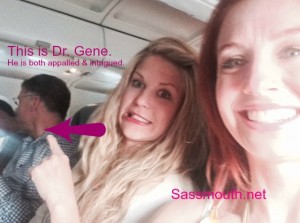 So, to kick off the MomCaveTV segments, we thought we would give you a sneak preview of our segments.  Enjoy, and look for us in the near future!