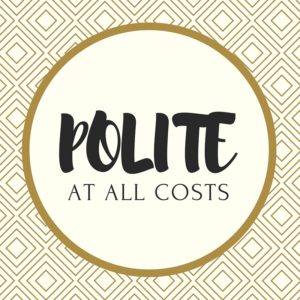 Southern women are taught to be polite at all costs. Southern mommas are expected to raise polite offspring.
One blistering day, I was driving with my two and a half year old son in the backseat, and I was feeling quite smug that I was going to be early for an appointment. So smug that I thought to myself, 'You know, I have just enough time to run into the dollar store and pick up a few items.'
I pulled into the concrete strip mall and hustled my son into the store. I was still on schedule, until I got into the checkout line.
I waited. And then waited some more. And even though I was wearing a dress like a good Southern girl does, the sweat from the muggy day started to cause my thighs to stick together. My mostly silent child up until this point started to whimper.
I tried to ignore the noises. I tried to ignore my sticky thighs and the impatient sighs from the patrons behind me.
The line would not move. My smugness turned into panic as I realized that I not only might no longer be early, nor on time, but late.
As it finally became my turn to put my items onto the belt, my son started to cross his legs and cry.
'Ma'am, can we use your bathroom? We're potty training and he doesn't have on a diaper.'
Disdainfully, she looked at me. 'No. All of outside is a bathroom for boys.'
I stood there, both dumbfounded and livid, as I slowly reached up and clutched my pearls. I felt my fingernails cutting into the palm of my hand as my fingers wrapped around my necklace.
'Of course. You're right.'
Crimson shame spread across my cheeks as the long line behind us began to whisper.
I shuffled my son out of the store and looked around frantically. There was nowhere for him to go to the bathroom. I directed him to the nearest corner.
Instead, he walked straight over to the window of the store, pulled his smocked shorts down, and began to urinate on the window, in full view of the register and line we just walked away from. Everyone, including the cashier, stopped in their tracks as this child made the window his personal bathroom. I just stood there and did nothing, with my own jaw hanging open in surprise.
He pulled his shorts up and started leading me to the car as if nothing happened and I followed, speechless.
I waited a year to shop there again. When I finally had the nerve to go back, there was now a posted sign: 'Bathrooms for pregnant women and potty-training children ONLY.'