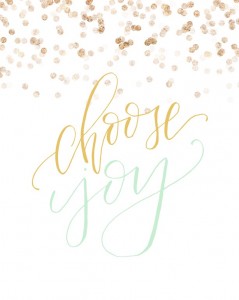 Today is my birthday.  Today, it marks 20 years since the last time someone laid their hands on me in an inappropriate way and hurt me. (Read my post from last year here)
Let's all cheer for that.
I've been fairly quiet on the blog lately, I know.  I have several big projects in the works that I can't wait to tell everyone about, but I've also been more reflective this year than most.  I'm reflective of the number 20 and what that means to me.
Nothing changes, exactly, on your birthday, only the calendar day and year.  And yet, it seems different.  I'm different.  I'm older.  I'm wiser, and I know what I want out of my life and what I need to seek out in order to fulfill it authentically.  That in and of itself is a milestone I am happy to celebrate.
So, this year, and specifically this month, I will be exploring what it means to 'choose joy'.  For me, it means actively seeking out the life I want to leave as a legacy through mindful interactions and living.  I have a lot more to write about it, and I can't wait to hear your feedback, on how you are choosing joy in your own life.
But, for now, for today, for my birthday, I am celebrating by giving you a small gift.  I went to my favorite graphic artist, Sarah, from Peachpod Paperie, and asked her to create two printables for my readers to download of the phrase 'Choose Joy' (one of them is the picture above).  I hope you print them, and frame them for your office, child's nursery, playroom, or wherever you need a small reminder to mindfully choose joy in your life's moments. I hope you love them as much as I do!
Enjoy!  And thanks for celebrating this milestone with me!
Open the attachments here: