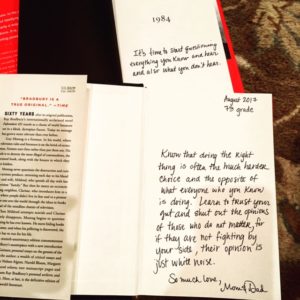 Our children go to public school. Where we live, this is an anomaly. Families like ours, white and middle income families, don't send their children to public school.
I have watched mothers pull their children on a playground from playing with ours once they notice our children's uniform tops. I have listened to mothers whisper loudly 'those are public school kids' when my children walk by them.
When my husband and I made the decision to enroll our oldest in public school, we made an informed decision. We attended open houses of private and public schools and we talked to the staff of the schools. And yet, the driving force of enrolling our children at a public school was diversity; it reflected the racial makeup of our city.
Once I enrolled our second child in this same school, I had an acquaintance physically recoil when I told her where our children were. Then, I had another one tell me that she couldn't send her child there, because she wanted the best education for her child (as if I didn't).
But after it was obvious our children were going to public school and it was a decision that was sticking around, the nastiness really started.
"You're really going to let your kids go to school with black kids?" (I heard that a lot)
"I thought public school was just a phase you were going through."
Most of you have never met me in real life, but if you have read any of my stuff, you can imagine that didn't go over too well.
Yes, our children go to school with black kids. They also go to school with Indian children. And Hispanic children. And Jewish children. And Chinese children. And you know what? It's amazing and our children's lives are richer for it.
A few months ago, I was stuck in traffic with our youngest child. I sat on one block for over an hour and I was frantically trying to figure out how I was going to get everything done that I needed to that night, now that I was running an hour behind. Our youngest talks. And talks. And talks and is never quiet. He was rambling on and on and then he said something that made my head whip around so fast my neck hurt after.
"I'm sorry, can you repeat that?" I asked, my cheeks burning and my eyes seeing white from anger.
His eyes got really big and his eyes started to well up.
"I said I don't want to be friends with *Student A* anymore because he called my friend *Student B* the n word and he doesn't think it's wrong."
I took a deep breath because I realized he thought I was mad at him. When I explained the cause of my anger, he said to me, "Mom, I just don't understand why people hate people so much that they don't even know."
This conversation has sat on my heart for months. I've wanted to write about it, but I didn't, because there are women I love, who have children that they have to comfort at night and explain to them that they are equal to white children and I've never wanted to make their heart ache anymore than it already does. The level of respect I have for these women is unparalleled. Knowing that they cannot protect their children from this and knowing that one day, their children will be made to feel inferior due to the color of their skin or their religion makes my stomach turn. There is no part of this that is okay.
But now? Charlottesville? The hoods are off. What you are seeing cannot be unseen and Freedom of Speech does not equal freedom from consequences. In the wise words of Maya Angelou 'When someone shows you who they are, believe them the first time.' We are witnessing evil and it cannot go back to hide in the dark.
And so what should be done by those of us with privilege? I believe that some people say things with good intentions because they want to help and don't know what to say. If you don't know what to say, don't say anything. Listen to those that are hurting. Educate yourself. Get involved with something, anything that will make a difference.
I write a lot about speaking up about what is wrong. But I don't write anything just for the sake of writing it. Most of what I do, I don't put on social media. The hard work is off of social media. Loving your neighbors? Harder than trolling the comments on social media. Showing up at a non-profit to help the homeless and not telling anyone about it? Harder than screaming your opinions on social media. Raising kids? Really damn hard. Much harder than reading the comments on the internet.
And so, while I don't write updates constantly on social media, I am watching and more importantly, listening. I am raising our children to not exhibit bystander behavior and to call out hate and to listen to other opinions who are not like their own. And I'm pouring all of my extra time and energy into a project I believe will profoundly change our city and the future of our community.
These things are part of a marathon, not a sprint. Advocacy work is exhausting and the level of burn out is high when you are passionate about something. Imagine screaming at the top of your lungs and not stopping until you have no voice. You're tired. You're physically exhausted from the mental toll it takes on your body and you have no energy to finish the race. This helps no one on the other side of the finish line. Change never happens overnight, it takes time. Stop screaming at the top of your lungs and preserve some energy for the long run. Because that is what we are looking at — a very long marathon.
Your children are watching, they hear every word you say, they scream at what you scream at, they learn their passions from you, and also your fears and biases from you.
Every year before school starts, we give our children books. I try to match the book to something that would be relevant to life lessons they may learn that year. This year, I gave our oldest the books 1984 and Fahrenheit 451. They suddenly seem more relevant than ever.
I wrestled with what to write on the inside of the jacket. But this is what I ended up with:
It's time to start questioning everything you know and hear and also what you don't hear.
Know that doing the right thing is often the much harder choice and the opposite of what everyone you know is doing. Learn to trust your gut and shut out the opinions of those who do not matter, for if they are not fighting by your side, their opinion is just white noise.