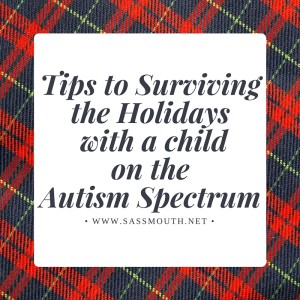 A few weeks ago, I had a discussion with a mom whose child was recently diagnosed with autism. She posed the question to me, 'How do you do the holidays with meltdowns?' I rattled off a few ideas without giving it much thought.
Later, I thought maybe it would be a good idea to write down some of these recommendations, not just for families who are newly navigating the holidays with a new diagnosis, but for their extended families and friends as well.
So, I went to some of my friends who also write and talk about autism, through their blogs, TV channels, and freelance writing and polled them for suggestions that they wish people knew. They enthusiastically agreed to help, because all of us know how hard this time can be, and with a little navigation, the holidays can be magical for everyone.
It took me two tries to put this post together. The positive thing happening in our household is that our boys are tiptoeing out of their comfort zones. The meltdowns had been decreasing, but with new experiences, come new meltdowns. The thing I did not expect is that sometimes, the meltdowns don't happen at the time of the overstimulation, but later, when something small finally breaks them.
The first time I sat down to start composing this post, about a week ago, our youngest had a meltdown and was uncontrollably crying for reasons I still cannot pinpoint. I chalked it up to him being exhausted, and carried on about the day.
Then, yesterday, was a long, exhausting day for our family. It started out with a chess tournament that went much longer than I expected. I could tell that Theodore was at his breaking point, and started to yawn, one of his 'tells'. He told the others that he was just really tired, but in reality, this is his way to covering up that he's about to break. I then took the youngest to a birthday party, and then immediately after, we went to the local Christmas parade, an experience over stimulating for just about anyone. We had two sets of tears the entire day, with no major meltdowns, so I was calling it a win.
Then today happened. I sat down at my computer to finish compiling this post and was interrupted by a meltdown with the oldest. He was cranky all morning, which he told me he was just tired, but I had a feeling the meltdown was coming. It did, with all of its hard-to-catch-your-breath crying. He's finally old enough to tell me that yesterday was just too much. That's a milestone, but also a reminder of how we need to handle the holidays.
So, wondering how to survive all of this stimulation and have a magical holiday? Read on to learn from my mistakes, and tips from five other smart autism mommas:
1. Prepare, prepare, prepare. I tell my kids daily what is in store for the next week. I regurgitate every day what will happen that day, the next day, and for the next week. That way they are not blindsided by the schedule.
2. See Santa when no one else does. This takes some planning, but we never go immediately after Thanksgiving, or on a weekend to see Santa. The crowds and noise are just too much. We usually go right after school on a weekday afternoon. The crowd is much smaller, and the noise is much less!
3. Have traditions and create consistency. Our boys know exactly what to expect with our holiday traditions, which makes for a much smoother holiday.
4. Know your limits. Doing things on back to back days are out of the question for us. Our kids need downtime to recover and recharge. Decide ahead of time how much time you will spend at a party or an event, and do it according to the child's limits. If a child can handle two hours of over stimulation, leave at least 15 minutes before the two hour mark, creating a buffer.
Eilleen "Mama Fry" Shaklee, Autism With A Side Of Fries
1. If my family is visiting, don't be offended if we leave early. I know when my kiddo has had enough.
2. Don't be surprised if me and my kiddo go off to a different room for a little sensory break.
3. Whenever my brother in law has us over and I ask what can I bring? He always replies, "Whatever Kiddo is eating at the moment." If I show up with tupperware, don't be surprised. LOL
Kathy Chlan, Unfiltered Mom
1. You need to embrace the song "Let It Go". "Let it go, let it go. Can't hold back anymore". Have no expectations and you won't feel like the holiday was a failure. Grab a glass of wine and chill!!
2. Set up a spot where your child could go if he feels anxious. Kids on the spectrum are socially awkward and don't know how to deal with crowds. If you are at a party, find a spot for him and show him. My son always found a spot by the alcohol. Should I have questioned that? Lol.
3. Give them a job on the holiday. Make it special for them. One year my son wanted to make an apple pie by himself. Instead of stressing out, I let him. Sorry to say, the dog wouldn't have eaten it, but we did! Except my youngest told the truth and said " Is this for real or are we being punked?" A time of love – yeah right.
Tara Wilson, Don't Lick The Deck
1. We try to keep our daughter's favorite traditions consistent from year to year. If she knows she can count on new Christmas Eve jammies, cinnamon buns on Christmas morning, and having her presents in a Santa Sack, then she's quite content to cope with some extra chaos and changes in routine.
2. The iPad has allowed us to go places that would normally be too overwhelming and taxing on the nerves, like Grandma's house. Our daughter gets her iPad and noise-cancelling headphones. I get my Ativan and a soliloquy about what a disappointment I am. We know who's winning here.
3. "NO!" It's a favorite word of our daughter, second only to "chips" and "I want." We've learned to use the word more ourselves. Many of us in the family have low sensory overload thresholds, and we recognize that we function better when we build in lots of down time. Although I apparently forgot this fact when I agreed to bake six-dozen cookies for an exchange party, on the same weekend as the twins' birthday party. Commence meltdown.
Kristi Rieger Campbell, Finding Ninee
1. Yes, the noises my son is making while he does laps around the room are normal, and he's fine. Also, he can tell that you're staring at him. Feel free to talk to him instead.
2. Ask us what our son would like for a gift before buying him something that he'll struggle with using, like a fancy new bicycle.
Nicole Jankowski, Mom of 4 is Tired
1. With a son who is severely autistic, and mostly non verbal, as well as 5 other kids in our house, I think the most important thing I've learned is to keep my expectations reasonable. If someone invites us to an event that is going to be more stress than fun, I'm much more willing to say no now and plan something that is more autism-friendly for our family to do instead. If I know my son won't enjoy going to an event, but my other children will, I don't mind bringing some of the kids and letting him sit something out every once in awhile. The holidays are filled with so much activity, no one has to miss out on anything—it's just figuring out what works best for who.
2. The only other tip I would have is to give your child with autism—or other children with autism—gifts that they will like, even if it's not a gift you understand. I struggled with buying "age appropriate" gifts for my autistic son as the years passed and he was still interested in playing with less developmentally appropriate toys. I make sure he has plenty of age appropriate things to play with—but if his favorite show is Max and Ruby and he wants a stuffed Max, I think I've made peace with giving it to him. I don't understand plenty of things that my other "neurotypical" kids like to play with (Shopkins? Minecraft?). I try to let happiness rule the holiday—and respect that gift giving is just one more area of raising a child with autism that I can't control.
How about you, sassy friends? How do you survive the holidays?