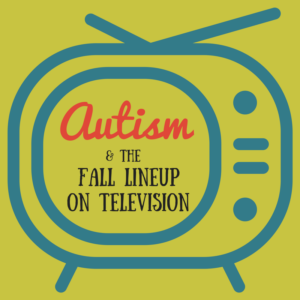 The fall lineup of television has three shows depicting a character with Autism as a central theme: The Good Doctor on ABC, Young Sheldon on CBS, and Atypical on Netflix. (Yes, I know they never mention if Sheldon has Asperger's, but I think we can all agree he does).
In the last 48 hours, I've watched all three, and two of them as a family. Our youngest is now Young Sheldon's biggest fan. He was already a fan of the Big Bang Theory, but he was sucked into watching a child who loves bow-ties as much as he does navigate his life at the same age he is. There is a scene in the pilot episode where Sheldon points out a woman's mustache to her and I cringed. I've lived through several of those scenarios with our youngest, scenarios that no matter how many times you live through it, they are still mortifying.
Atypical does a fantastic job reflecting navigating the teenage years. Because it does deal with the subject of dating and sex, my husband and I decided our youngest is not ready to watch it, but we will watch it with our oldest.
We sat down to watch The Good Doctor last night, and it turned out that our oldest had already watched the show without us but gushed about how much he loved it. Then, he sat down and watched it for the second time with us, eyes glued to the television the entire time. When I tucked our youngest in for bed last night, he said, "Dr. Murphy's Autism is what saved that little boy's life." He was referencing the main character, Dr. Shaun Murphy, a pediatric cardiology resident who is Autistic, saving a young boy's life by recognizing signs that the other surgeons couldn't see. "One day you will wake up and realize that your ability to think differently is a gift," I said, as I kissed his forehead.
I had to fight tears as I watched The Good Doctor. There are several scenes where the hospital administration is arguing whether or not someone with autism has a place on their surgical team. It was heartbreaking, infuriating, and a real concern of mothers of children on the spectrum who wonder if others will hold their children's diagnosis against them. We know they have exceptional abilities, but do others? When all you focus on is what makes them different, how can you see what makes them exceptional?
What all three of these shows get right is showing the nuanced family reactions. The struggles of the siblings, the parents trying to do what's right by their kids or by trying to ignore their child's behavior, the people that shun them, and the people in their life that can see their potential and keep pushing them forward. All three also show that these children/young men have a level of perseverance that most adults lack. The ability to keep showing up and pursuing their obsessions serve these characters well in the long run, even when it seems everyone around them is actively working against them.
I never thought about representation on television in regards to my children as they are both white, middle-class boys. When I thought about representation on television, I thought about female superheroes, African-American families with positive stories, shows with minority storylines. My children could watch any television show and see themselves reflected on what they were watching.
Or so I thought.
They might be able to see people who look like them, but no one who acts like them. In retrospect, I wonder if watching other kids who look like them, but are neuro-typical made them feel even more like an outsider than they already did. My kids don't play sports like the kids on sitcoms or gravitate towards typical young male interests. The only shows they've seen with characters who have similar behaviors to them are adult characters, such as Sheldon in the Big Bang Theory.
Most of us have childhood heroes that can be traced back to television. But even superheroes aren't reality, and superheroes are a creative escape (which are also needed, don't get me wrong). When kids on the spectrum feel as though they are the only ones navigating a neuro-typical world, it's comforting to know that there are options of television shows who are including characters with Autism. Not only does this help them feel less excluded, these shows are also breaking down preconceived notions about Autism, opening doors for future inclusivity.