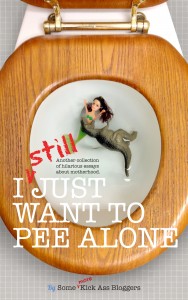 Many of you are fans of the blog of Jen Mann, People I Want to Punch in the Throat .  I know that, because most of you are sick and twisted like me.  I've always been a fan of Jen's blog, and her eloquent way of calling people to the table. It is hilarious in a way that is not mean-spirited, which is a hard balance in humor, and yet she does it with ease.
Jen recently published her third anthology, I Still Just Want to Pee Alone, and I was lucky enough to receive an advance copy.  But, because of life, and my ability to barely get my shit together, I'm just now reviewing it.  That's okay, it was worth the wait.
First, let me just say what a huge fan of anthologies I have become due to her work.  I used to resent that I couldn't sit down to read a book, because I would forget where I stopped and forget the backstory.  None of that happens, because it changes with each chapter, and that, my friends, is genius.
I'm impressed with her continuous stellar job of recruiting and cultivating the smartest, wittiest and funniest female writers around, and this book is no exception.  I read it twice, planning on telling you which one are my favorites, but I can't really pick because they are all just that good. However, no part of motherhood is left uncovered, including shower sex, sex, and more sex as a mom, locking yourself out of the house and just other general hysterical, relatable scenarios.  I was left with a ton of questions, so lucky you, I asked her some, and here are her responses:
Audrey:  First, these anthologies are wildly popular. Where did the idea for the first in the series come from?
Jen: Once I went viral in 2011, I had tons and tons of really talented bloggers coming to me and asking for me advice on how to break out. Since my viral hit was completely organic (no HuffPost or Scary Mommy help) I really didn't know. If I knew, I'd do it every week! I wanted to help get some eyeballs on writing that I liked though. I knew that I had a decent sized platform and I knew that my readers loved funny and irreverent, so I decided to put together an anthology of my favorite bloggers. I asked them for one super duper funny essay about motherhood or womanhood. I didn't have a title yet. It wasn't until later when I was trying to think of a universal theme that every mother feels that I came up with Pee Alone. My kids were five and seven at the time and I still wasn't getting much alone time and so that lament popped in my head. I've been building on it ever since.
Audrey:  Did you have any idea they would be as popular as they are?
Jen:  No way! I HOPED people would like them. I knew there was an audience out there, but we had to find them and that's always the hard part. My reach is only so big and our combined reach is bigger, but you go into it knowing that not everyone is going to get it and support it. Selling books is a long road and you just keep finding new ways to find readers. I Just Want to Pee Alone (the first in the series) hit the New York Times bestseller list this spring. It was three years after its publication.
Audrey:  How long does it take to put the stories together? They are expertly quilted together.
Jen:  I start working on the next book as soon as the current one is published. My contributors are invited to submit, it's not an open call. So I keep a list of bloggers/authors that I'm watching and reading. I read a lot of their material before I invite them to submit. I think that helps a lot. It makes my job easier when it comes time to putting them together. I invite writers who I think will fit together and work together. Once I get the essays, it takes a few months to get them edited and then put together in the order I want. The order changes a lot, I literally print out the essays and move them around the floor of my office. I'm a visual person. I can't do that online. I need to see what it will look like.
Audrey:  What's next?
Jen: Volume Four! I think I have a new title and a new topic for volume four that came to me last week actually. I'm scouting potential contributors and I'll be sending invitations around September.
So, get the book!  This is my recommendation for reading on the beach, on a plane, or on a road trip between screaming children and drinking with friends.
You can find it here: I STILL Just Want to Pee Alone: I Just Want to Pee Alone (Vol #3)
And don't forget to go follow Jen on her blog, you will be glad you did!