Our family just came back from a fantastic vacation in Costa Rica.  If you've never been there, I highly recommend it.  I have a ton of stuff to write about doing there, so I've decided to break it up into several posts due to the large number of photos.
Today, I excitedly unpacked my suitcase, and I unwrapped these three canvases that I bought from an artist in downtown Ocotal in Guanacaste, Costa Rica.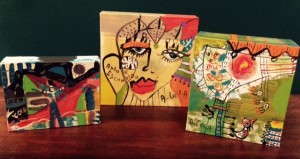 I like to buy art, or something random that I can frame when we travel to foreign places.  There is a collage above our love seat that has a map of Palermo, Sicily, where we honeymooned, and a Mayan Calendar from Honduras.  You get the drift.
Art makes me happy.  I'm one of those souls that art speaks to, and it moves me.  You can look around our house and see I am drawn to eclectic art, but every piece has sentimental meaning behind it.
Our last day in Costa Rica, after spending the morning on a lovely, hidden beach, my mother-in-law and I ran into town to see if I could find something that just spoke to me.  The first shop we popped into was the Alessandra Cola Gallery.  I struck up a conversation with the man, Marco about the art.  Turns out, this is Alessandra's life partner, and father of her son, Santiago, and the framer who stretches all of her canvases.  This is Alessandra: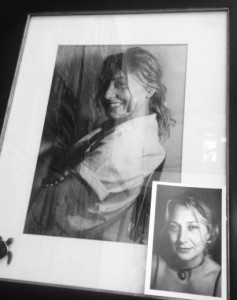 On the wall of the gallery was this photo (Marco took it down to show us):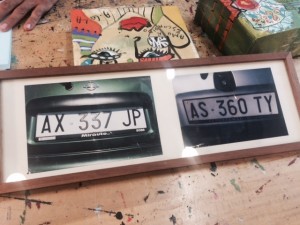 The week before 9/11, they were strangers, and were involved in a car accident in their native Rome, Italy.  These are photos of their license plates at the time.  Because of the accident, they fell in love, visited Costa Rica, and now live there.
I love stories like these, and it added to the appeal of the art.  I bought three pieces, one for Eric and I, and one for each of the boys.  Aren't they lovely?
Read more about Alessandra and Marco here:
https://alessandracola.wordpress.com/contact/